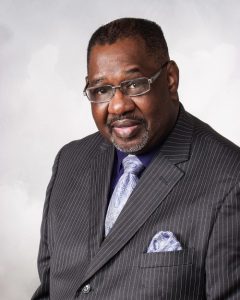 Donald Outterbridge is the Founder and Senior Pastor of Christian Fellowship Evangelistic Church, Inc., serving since 1984. Pastor "O," as he is often referred to, has been saved and in active Christian service since 1961, has been preaching since 1972 and has been involved in pastoral ministry since 1974. His education includes studies at Manna Bible Institute and the Center of Urban Theological Studies, a school associated with Geneva College and the Westminster Theological Seminary. He has also participated in various Continuing Education courses.
Pastor O has a heart for God and is committed to preaching, teaching, impacting and empowering this present age with the Gospel of Jesus Christ. In doing this, he has developed a ministry philosophy – "The Four M's Ministry" – Men, Marriages (including pre-marital/dating), Ministers, and Managers (Leadership Development). From the words of the Apostle Paul in Colossians 1:28-29, "We proclaim Him, admonishing and teaching everyone with all wisdom, so that we may present everyone perfect in Christ. To this end I labor, struggling with all His energy, which so powerfully works in me. His desire is that both church and society be renewed, refreshed and revitalized by the transforming power of God's Word. He preaches that God might be glorified, the glorious light of the Gospel might win sinners, and the people of God might be brought to maturation in the faith.
Pastor O also presently serves as the Chief Adjutant in the Northern District of the United Holy Church and serves as a District Elder in the Eastern Pennsylvania Sub-District.
Pastor O has been married since June 23, 1973 to one, Rachel Ann. Pastor and Mother O. have three children – Donald Jr. (Cynta), Deanna Kea (Michael) and Keith (Lysette), and they all share in the ministry of Christian Fellowship. He has four grandchildren Bethany, Danielle, Michael John, and Keith Jr. who have him wrapped around their finger.